Tactical Combat Casualty Care Course-Medical Personnel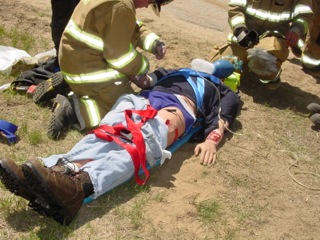 TACTICAL COMBAT CASUALTY CARE COURSE- Medical Personnel
8TH EDITION

For

EMT & ADVANCED PROVIDERS, LAW ENFORCEMENT
& Physicians, Nurses, etc.

AT

Rescue Inc. 541 Canal Street, Brattleboro, VT
August 24 & 25, 2017
0800-1700 hours daily

The Advanced Life Support Institute is pleased to be able to offer this exciting two-day program open to all providers EMT to Paramedic AS well as Law Enforcement. This course, using the new TCCC curriculum, introduces evidence-based, life-saving techniques and strategies for providing the best trauma care on the battlefield AS well as in active shooter and EMS in the warm zone scenarios. It is the only TCCC course endorsed by the American College of Surgeons.

All participants will be involved in classroom presentations as well as hands on skills and scenarios.


Cost: 2-day provider course: $420/person

(Price includes instruction, materials, simunition, certification and text.)

Travel, meals, lodging are on your own.
DEPOSIT REQUIRED FOR BOOKS prior to class: $75.00


For further information, please call the ALSI office at (603) 447-4249 or e-mail us at alsi@myfairpoint.net. Our address is ALSI, 35 Applecroft Lane, Center Conway, NH 03813

REGISTRATION: Deposit of $75 reserves a space and a textbook. Balance due first day of class.