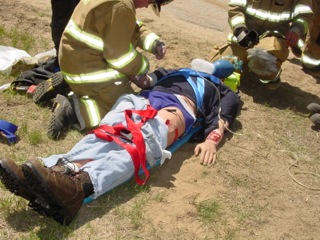 This 48-hour (Paramedic) program satisfies the National Registry National Core Competency Requirements (30 hours for Paramedics) and the VT Core Competency Requirements (up to 15 hours) for ALS providers. We will also recertify your BLS, ACLS and PALS provider cards (if your card is in-date when you attend). For both AHA ACLS and PALS courses, participants must have current 2015 texts. A self-assessment pre-course review must be completed for both PALS and ACLS. These are done online.

In addition, one can renew their NAEMT certificates: PHTLS and AMLS as long as they are not expired just for the cost of the certification fee ($10 each). Both of these courses have new edition texts which must be purchased for the course. Go to www.naemt.org or Jones & Bartlett Publishing to order. (We may have some 8th Edition PHTLS texts available OR if you took a TCCC course, that 8th Edition of PHTLS with Military Version is suitable). You will be provided a pretest for each course prior to the course. PHTLS will be on Trauma day, Thursday, September 6, 2018 AMLS will culminate on the final day. A PHTLS option is a hybrid course. Online portion is at your expense and must be completed prior to Trauma day.

Come prepared to not only sharpen your pencils, but to sharpen your skills with plenty of one-on-one, hands-on practical skills review. METIman is an interactive human patient simulator designed for the pre-hospital training with additional scenarios. A pig trach lab will be part of the refresher as well. Unlike other refresher training programs you have attended in the past, ALSI Instructors will work to bring you in-line with what?s ?on-line? for prehospital medicine in the year 2018 and beyond! We welcome all ALS providers for this dynamic program.

Tuition: $550.00 includes instruction, BLS, ACLS, PALS cards
EXTRA: $10 each for NAEMT PHTLS and/or AMLS recerts.

REGISTRATION: E-mail ALSI and your Dept. Training Officer to reserve a seat.Payment is due on or before the first day of class. ALSI will provide invoices if needed; contact us.